A wonderful place to heal; great caring staff
By Meg Barone
February 18, 2021

6:19 pm
The decision to admit an aging parent to a skilled nursing home, whether for short-term post-hospitalization rehabilitation or long-term or memory care, can be fraught with guilt. In the past year that guilt was compounded by fears of COVID-19.

Athena Health Care Systems can assuage those feelings for adult children unable to care of their elderly parents at home. Its numerous facilities in Connecticut and beyond – including Laurel Ridge Health Care Center in Ridgefield and Newtown Rehabilitation & Health Care Center in Newtown, provide stellar programs, a caring staff, and a long list of safety protocols to set one's mind at ease.
"Our residents and employees are tested every week," said spokesman Tim Brown, adding that the staff and residents have received COVID-19 vaccinations. "We continue to require and administer the recommended guidelines from the Centers for Disease Control and the state Department of Public Health. That includes PPE (personal protective equipment), proper hand-washing, social distancing for activities, and making sure everyone is following the guidelines," he said.
For the moment visitations are restricted. "In-person visits are limited, due to state guidelines, so we always offer window visits and "alternative visitation" opportunities, such as Facetiming with our abundant iPads and tablet devices. Every week, and sometimes more frequently, we send off an email to the family members to keep them informed about the goings on within the centers. Zoom conference calls are led by the administrator to provide timely updates," Brown said.
While some activities and outside entertainers are temporarily paused, Brown said the staff have adapted. Bingo in a large room has given way to hallway Bingo. I-pads are distributed so patients can play video games, word searches and crossword puzzles, and newly hired "Ambassadors" roam the halls seven days a week to offer I-pad instruction, provide other recreational activities or simply to bring someone a glass of water or lend an ear.
The quality skilled nursing care at Laurel Ridge and Newtown, combined with declining rates of coronavirus and increasing numbers of people getting vaccinated create a safe and comfortable setting for patients, who are treated as individuals, not numbers, Brown said. The "staff is devoted to providing our residents with a homelike, safe environment designed to improve their quality of life," and dignity for those who are at end of life, Brown said.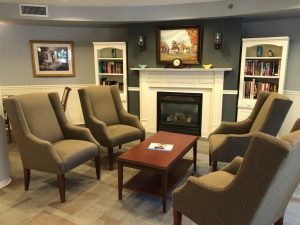 "Laurel Ridge Health Care Center is wonderful. All the staff make you feel welcomed and each resident (long-term or short-term) is important. They do their best with each resident," said Catherine Troiano, whose father resides at Laurel Ridge.
Of the Newtown facility, former patient C. Alvarez said, "Wonderful place to heal. Great caring staff. Private rooms on short-term rehab floor. The grounds surrounding the facility are beautiful."
Athena's Newtown location provides the areas only "continuum of care campus," where area seniors can "age in place" knowing they don't have to move even as their care needs change. "The result is a new standard in senior living and a place you'll be pleased to call home." In addition to assisted and senior living, Newtown offers post-hospital care and recovery, home health care, hospice care, and care at home. The latter provides homemaker and companion services that allow individuals the support they need to maintain maximum independence in the comfort of their home, Brown said.
Newtown Rehabilitation & Health Care Center also provides out-patient Physical Therapy and Occupational Therapy services.