Ridgefield Academy's K-8 Advantage: Nurturing Tomorrow's Leaders
By StoryStudio
September 29, 2023

7:44 am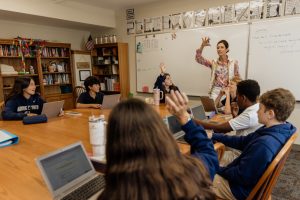 Imagine a school where the laughter of children fills the hallways, where each step taken is infused with purpose, passion, and most importantly, joy. At Ridgefield Academy, the emphasis on joyful learning isn't just an afterthought—it's at the heart of their mission. "School is challenging, and it should be, but it should also be nurturing, fun, and social," says David Suter, Associate Head of School and Director of Enrollment at Ridgefield Academy. During his 11-year tenure at Ridgefield Academy, Suter has thought a lot about the importance of healthy school culture and joy: "There's a lot of research suggesting that the middle school years are when kids begin to feel school is drudgery and therefore their feelings about school, and themselves, can be negatively impacted. We have a different mindset here, about what kind of experience school should be for those all-important years."
One of the reasons Ridgefield Academy is able to foster a joyful and intellectually inspiring learning experience is their time-tested kindergarten through 8th grade model. Among the many advantages of this research-based model is that students get to remain children a little longer than most, a developmental benefit that pays dividends in their high school and college careers. "Ridgefield Academy's kindergarten through 8th-grade model offers a unique opportunity for kids to grow in a smaller school environment that is more responsive to their ages and stages than a large-scale public model," Suter explains. The data is unequivocal on this point: studies like this one show that the social and academic contexts of middle-grade schools are poorly aligned with adolescents' developmental needs.
The kindergarten through 8th grade environment at Ridgefield Academy is academically rigorous. But crucially, it is also a warm and supportive community, free of the pressures of high school and social anxiety that tend to prevail in a larger school setting. By balancing challenging lessons with individual support, Ridgefield Academy provides a responsive environment that not only nourishes students academically and emotionally but also introduces early and genuine opportunities to develop leadership skills and a sense of responsibility. This sets Ridgefield Academy apart from a traditional public or K-12 model, where leadership roles are primarily reserved for high school. According to first-grade teacher Danielle Getchell, the progression of students' leadership and public speaking skills are advantages of the kindergarten through Grade 8 model. "Ridgefield Academy tries to instill leadership skills in the early grades," she observes. "At a young age, students get a sense of what it feels like to lead and what it means." By 7th and 8th grade, students step into significant leadership roles that, in other places, might not be available until well into high school: they run assemblies, lead community activities, and serve as proud representatives on the student council.
Leadership is an essential component of the Ridgefield Academy experience. Central to the school's ethos is their signature Kindergarten/Grade 8 Buddy Program. Each year, members of the 8th-grade class are paired with kindergarten students for scheduled weekly meetings. Suter's enthusiasm for the initiative is palpable. "It is truly an awesome program…one of the best we have," he says. At the opening assembly each year, 8th graders are paired with incoming kindergartners. At the end of the term, Ridgefield Academy graduates are walked down the aisle at their graduation ceremony by their young counterparts. And in between, the thoughtful program intertwines the learning experiences of the youngest and oldest students, promoting mutual growth and a culture of kindness. "The Upper School students are able to help the kindergarteners practice their reading, navigate playground difficulties, or do something fun as they get ready for a holiday," notes Suter. "It's a great example for the 8th graders to learn about the importance of role modeling and leadership skill-building when they transition to their high school years."
Ridgefield Academy students graduate after the 8th grade when they are ready to take on new challenges. By the time they reach high school, after early exposure to leadership roles, Ridgefield Academy students are poised, confident, and ready to lead in a new environment. With the understanding that change fosters growth, selecting a high school is a big part of the preparation that students undergo in their final years at Ridgefield Academy. "We start in 7th grade by bringing representatives from different types of public, boarding, and day schools to come and talk with our parents and our kids," Suter shares. "We'll help them with what to look for when they go to tour schools, how to sit for an interview, how to write a thank you note, and how to look someone in the eye and shake their hand."
Situated in western Connecticut, across 42 rolling acres in the foothills of the Berkshire Mountains, Ridgefield Academy is a private, co-ed day school with the vision to see students as known, needed, and valued. The personalized approach is the result of a partnership between families and the school. "Parents are a huge part of what we do here," Suter says of the Ridgefield Academy community. "When families enroll their children here, they really are joining an amazing mission-driven school." With upcoming open houses—in-person on October 15th and virtual on November 7th—parents have the perfect opportunity to learn how they can join the Ridgefield Academy community and help provide their children with an environment that not only challenges them academically, but also nurtures their spirit, character, and leadership abilities. Perhaps best of all, an environment that preserves the magic of childhood for just a little longer. Visit https://www.ridgefieldacademy.org or call 203-894-1800 to learn more.